---
FOR EVERY ADVENTURE ON THE WATER

---
YAMAHA, THE MAKERS OF WAVERUNNER PERSONAL WATERCRAFT, IS ON A HIGH AND FOR A GOOD REASON.
The "Revs Your Heart" brand has the industry's #1 best-selling model with their VX Cruiser HO, the best-selling luxury model with their FX Series, the best-selling high-performance model with their GP1800R SVHO, and is now attracting more first-time buyers with their EX Series than their Rec Lite competition.
With their WaveRunner line dialed in like never before, Yamaha is looking to new, innovative accessories to add to the fun and excitement that their personal watercraft deliver.
Exclusive WaveRunner Speaker Package
The Yamaha EX, VX, and FX Series models are now available with new, exclusive Bluetooth® speaker packages that are custom-designed for Yamaha WaveRunners, and can only be purchased from a Yamaha dealership.
These speaker sets (MSRP $349 for the EX/VX and $399 for the FX) deliver high-quality sound, long battery life, easy synching and best of all, they float.
The EX/VX Series marine speakers are affixed to the WaveRunner using standardized RAM® mounts. The FX Series marine speakers feature a new Yamaha-exclusive attachment system for an integrated appearance.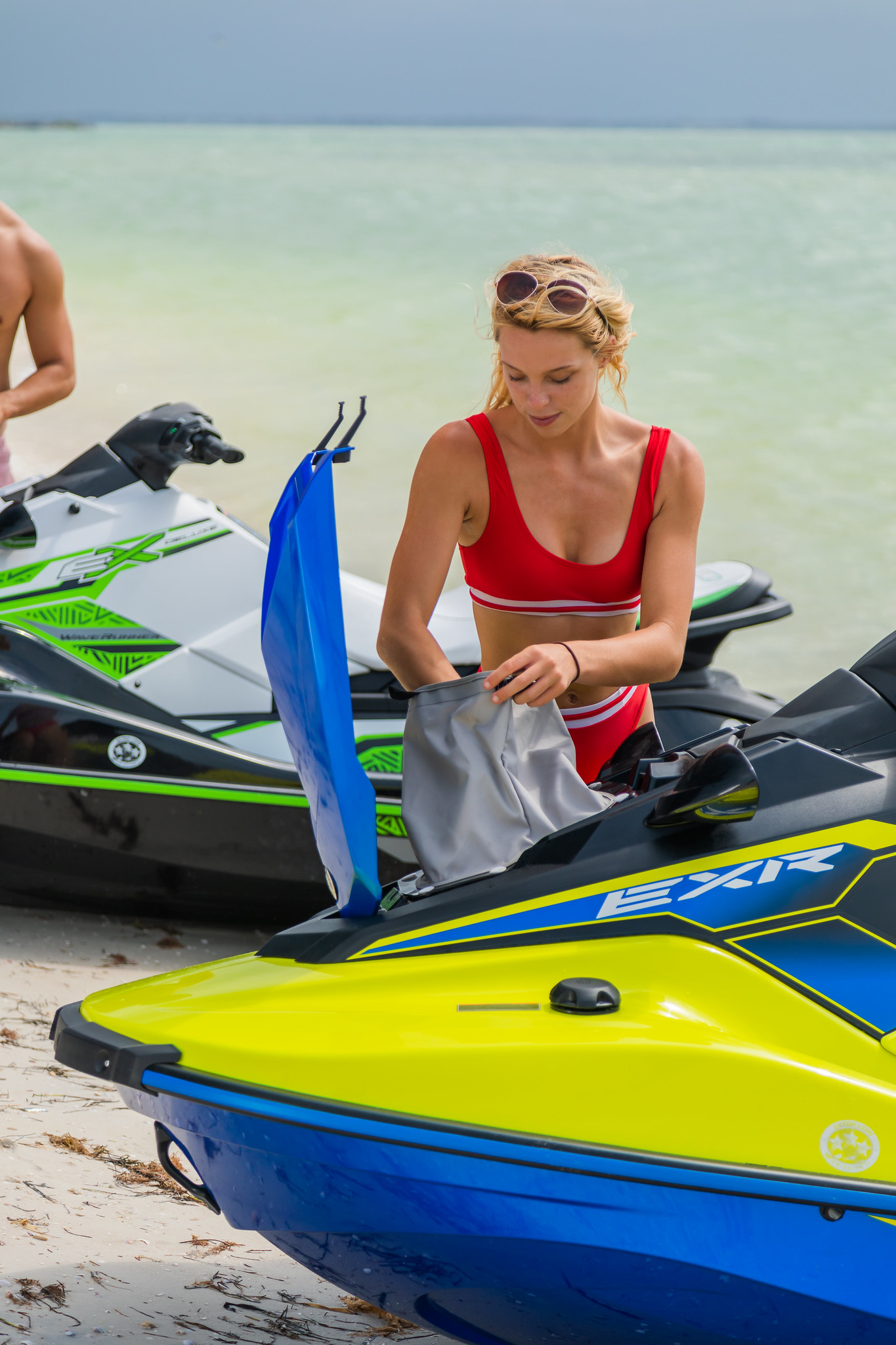 Innovative Fishing and Storage Accessories VX and EX Series
Designed for adventurous VX WaveRunner owners who enjoy extended cruises or want to fish from their PWC, Yamaha now offers a unique storage accessory that is compression-molded for ruggedness and versatility but is a removable soft case that can store an insulated cooler (sold separately) and features two fishing rod holders. When not using the storage case with the insulated cooler, the storage case works great for storing fishing tackle.
So, for the small fraction of the cost of a single-use fishing model, VX owners can now fit their PWC with a premium-quality removable storage bag with rod holders, and a RAM-mounted fish finder that makes the VX Series even more versatile for any adventure you can dream up.
For the EX Series, there is now a new, expanded bow storage accessory that replaces the existing bow compartment tray with a large, waterproof bag that takes full advantage of the interior space.
There is also a custom-styled deck lid storage pouch that is compression-molded for an integrated look that also features a waterproof window that allows the user direct access to their mobile device and apps for music and GPS.
Yamaha's innovative speaker and storage kits prove that accessories are all you need to add to the fun when the watercraft speaks for itself.